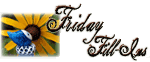 1. There is no need to shout, I can hear you.

2. Where in the heck did the dog bury the steaks.

3. I planned on painting the great room, but blogging is all I managed to do.

4. Prospects for rain is not in the forecast.

5. 4 8 15 16 23 42 is the message.

6. Simplicity and tranquility are not part of my vocabulary.

7. And as for the weekend, tonight I'm looking forward to walking with my girlfriend, tomorrow my plans include shopping and Sunday, I want to take an outing to photograph nature!

To visit more participants go here.