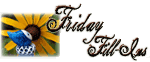 You can play here


This week Amy provided the questions; thank you, Amy! And...here we go!

1. Dancing to the oldies while exercising makes me work a little harder.

2. The last time I vacuumed I nearly sucked up a throw rug.

3. When I drive I listen and sing to my CD's.

4. I saw Dolly Parton standing on the sidewalk at my local airport.

5. Give me chocolate, give me coffee, give me chocolate.

6. Next week I am looking forward to cooler weather.

7. And as for the weekend, tonight I'm looking forward to dinner and a movie, tomorrow my plans include shopping and Sunday, I want to visit a new church!